After years of renting out your home, you've finally decided to take the initiative and buy your first home. An important step with which there are several tips for undertaking this adventure in the best conditions.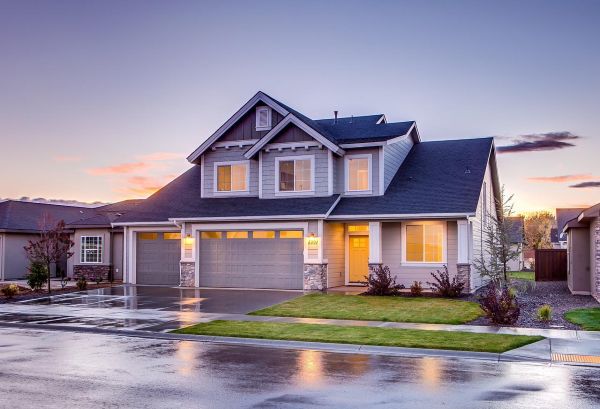 House with garage and garden – Credit: Pixabay
During our younger years, many of us logically chose to rent our accommodation. But whether we've tasted the joys of condominium or not, it's time when we realized that building a real estate portfolio is the best way to invest and stop… throwing away our money.
Whether you are in this situation or not, and you decide to buy a property, you will undoubtedly find yourself facing the difficult decision of choosing a mortgage. Fortunately, we will give you all the information so that you can better understand how it works in order to choose the best one for you.
1. Decide how much money you can borrow
Before you even start dreaming by looking at real estate ads, the first step is to figure out how much you can borrow. The idea then is Calculate your borrowing capacity Taking into account several criteria, such as the interest rates offered by mortgages, the term of this credit, and the monthly payments required.
And you can imagine that the borrowing capacity will not be the same from person to person. It will vary depending on your age, income, amount of your personal contribution, loan term, or health status. To make your life easier, there are high-performance simulators online.
When you calculate your borrowing capacity, you can then start looking for your future home based on prices. Do not forget to take into account the cost of any work if you do not intend to buy a new one.
2. Find the bank that matches your project
You've spent months searching for real estate ad sites, visiting apartments or houses, but this time, that's it, you've found your future home! Now, all you have to do is find a bank to lend you the money you need to buy, on the best terms. Once you sign the sales agreement with the seller, you generally have one to two months to find your financing.
You will then have to create your profile and contact different banks to compare their offers to you. If you don't want to do it yourself, you can also get help from a broker. He will collect your file himself and take steps with the lending institutions in order to offer you a set of offers and advise you on the most interesting offers.
Also expect that the bank you choose for your loan will most likely require you to open a checking account with them.
3. Choose the best home loan
After the first meeting, you will have decided the criteria for your mortgage with the bank. After that, the bank will send you a loan offer based on previous discussions and your profile. Before signing on to this offer, you will have to refer to it carefully to compare its most important components.
interest rate, first of all, it is the thanks by which the lending organizations are compensated. It is directly related to Payment term, because the longer the term, the higher the amount of interest accordingly. Thus these two parameters are very important for comparing performances.
Amount of monthly payments It will also be a key element. Tell yourself that it corresponds to the amount you will pay each month for the life of the mortgage, and therefore should be as predictable as possible according to your expenses and future projects.
finally, loan insurance It is the last item you will need to compare. It is generally imposed by banks and represents between 0.04% and 0.65% of the loan amount. The lender generally offers insurance, but you also have the right to compare and choose another, more advantageous insurance.
Here you go, you now have all the cards on hand to find the mortgage that best suits your needs!